Crosby Hires Alex Berti as the Managing Director, LATAM
Crosby is pleased to announce that Alex Berti has joined the Crosby team as the Managing Director, LATAM. Alex will lead the Latin America team with focus on continued revenue and margin growth. In addition, Alex will directly service the Central America & Caribbean from his base location in Florida.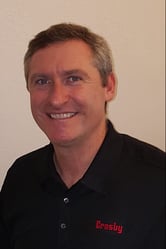 Alex has extensive experience leading diverse sales teams while developing new markets and customers in the Latin America region. He has a proven track record of establishing and maintaining strong relationships with distributors in Latin America and expanding market penetration throughout the region. Prior to joining Crosby, Alex was the Sales Director at Dynamic Safety in Somerset, New Jersey. Alex also served in various sales and marketing roles at Honeywell Safety Business, specifically targeting the Latin America region.
We are excited to welcome Alex to the Crosby team. Alex currently lives in Florida and previously lived in Venezuela and Uruguay. He speaks English, Spanish, Portuguese, Italian and French and holds a Bachelor of Science in Business Administration from Bryant University in Rhode Island.