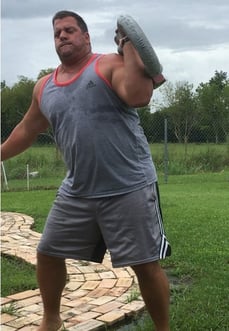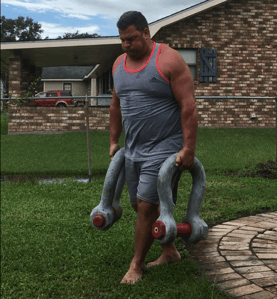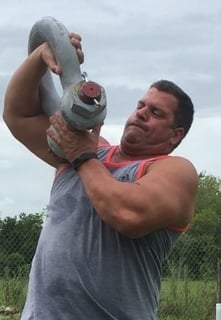 How long have you been in the industry? - I have been in the crane/lifting and hoisting business for about 22 years.
What do you like most about this industry? - I have always been amazed of what cranes and rigging can lift. I have a passion for safe lifting and passionately inform others of this through the industry committees I am part of.
How did you come about lifting Crosby shackles? - We use Crosby shackles in many aspects of our operation. I was lucky enough to have a few donated to me, so I brought them home to use as lifting tools. A big part of my job duties now is teaching and coaching with crane lifts and rigging as well as keeping up with various standards. While teaching, I always relate the human body to a crane in various scenarios. I have been competing in Amateur Scottish Highland games (Strength Competition) since 2006 and did my last one in 2013. During my years of competing, I use various techniques and ideas to develop my strength. Lifting odd objects is very effective for this. Thus, heavy shackles work great as well as stones, kegs, etc.
Why Crosby? - Crosby makes an excellent shackle, and they have an excellent reputation.
"I've been familiar with Crosby shackles for the 22 years of my career thus far. Never had one of the shackles fail on me yet."

- Brandon Verret, Technical Performance Manager
Sparrow Group (Energy Cranes)