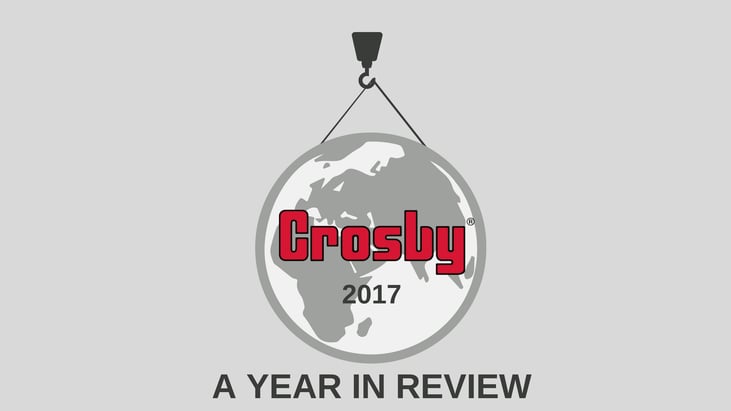 Since our first patent in 1888, The Crosby group has been paving the way for innovation and better solutions for the rigging and lifting industry. For over a 100 years, we have been the market leader for selection, quality, and value.
2017 has been a staggering year! With over 110+ patents awarded or assigned to date, 3,000+ distributors operating worldwide, and 1,200,000+ certificates in Crosby CertPro®, we are excited to celebrate the growth of our business, our team, our customer base, and the continued efforts to set the global standard for quality.
Here's a Year in Review of The Crosby Group.
Company Highlights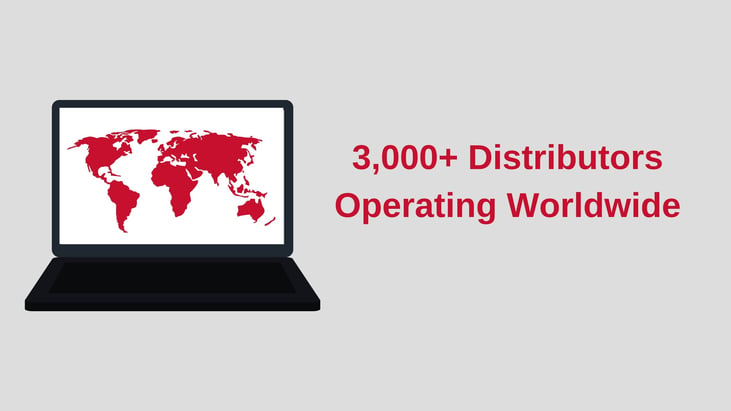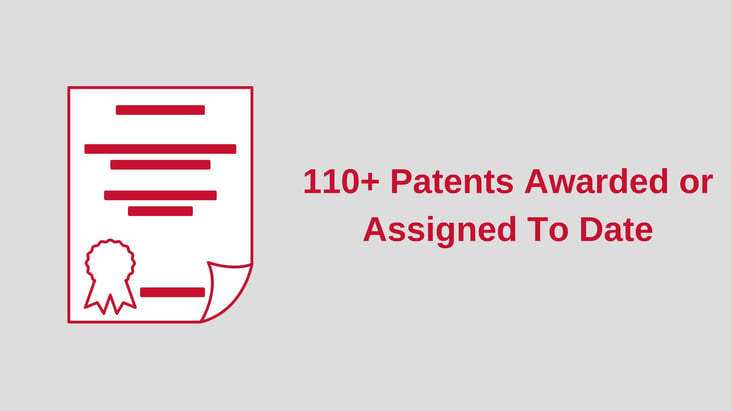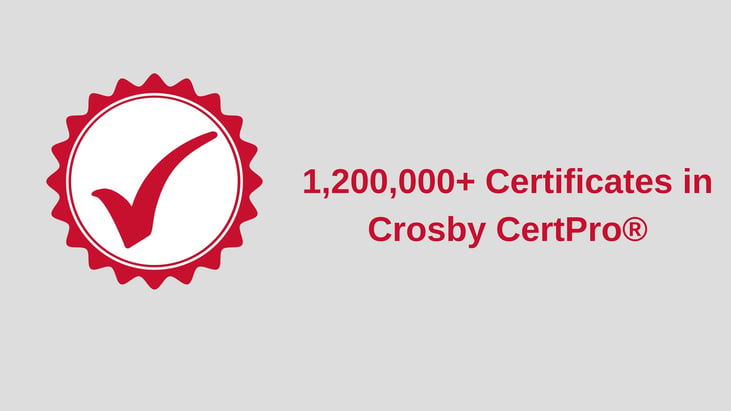 Rising to the Challenge
In 2017, Hurricane Harvey hit the Houston metropolitan area. Despite the devastation, The Crosby Group rose to the challenge and focused on raising money for the employees of Crosby distributors impacted by the hurricane.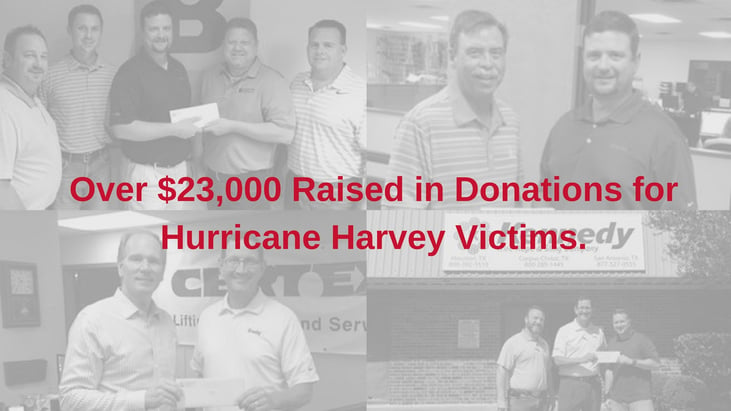 A total of almost $23,000 was raised in donations and all funds went to The Virgil Wells Foundation, a non-profit organization, where it was distributed to those in need of food, clothing, furniture, and home repair. We are proud and honored to have been a part of helping to rebuild the lives of those affected by Hurricane Harvey.
Commitment to US Manufacturing
The Crosby Group has always been committed to US Manufacturing, which is why we initiated plans to modernize and update our manufacturing facilities in Longview, Texas. The results were a state-of-the-art manufacturing facility, designed to take Crosby, our customers, and our workers into the future.
With the new facility and manufacturing processes, The Crosby Group can meet the continue growing needs of customers and make room for innovative solutions for the industry.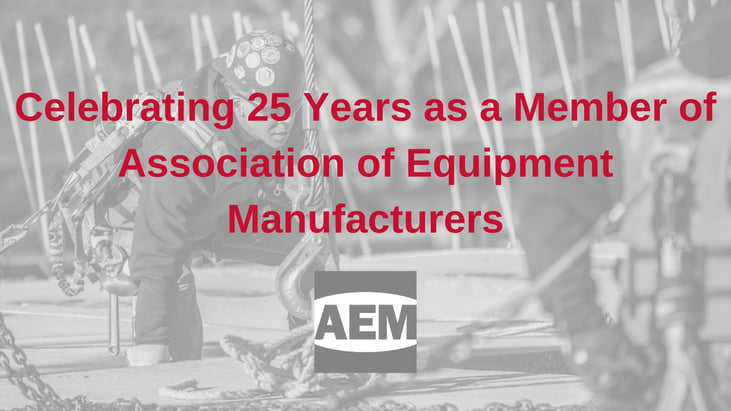 Current Industries Served
Cargo Handling
Crane
Marine & Subsea
Mining
Transportation
Cell Tower
Construction
Industrial Manufacturing
Energy
Heavy Lift
Current Value-Added Services
World-Class Training

Tradeshow

Visibility

Smart Device Applications

E-News & Interactive Catalog

Product Certification

Company Highlights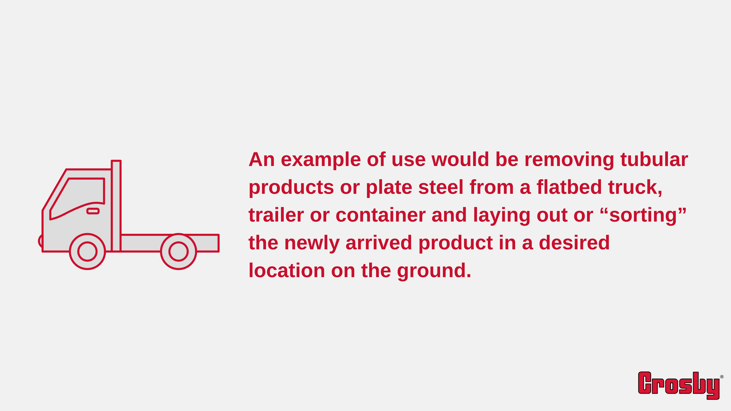 Trade Shows
From Houston to New Zealand to Belgium to Japan, Crosby had an extensive show and conference schedule exhibiting at multiple events around the globe. The team had the chance to display and demo our superior products, innovative technologies, and recent advances across multiple areas in the rigging and lifting arena.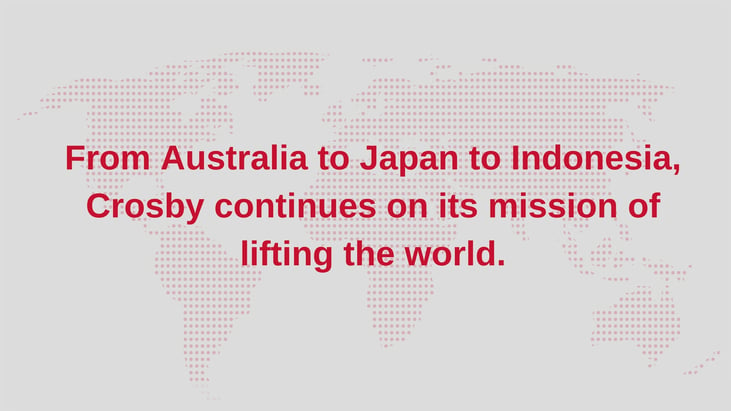 A few included the SPE Offshore Europe Conference & Exhibition in Aberdeen, the APIglobal 2017 Offshore Safe Lifting Conference in Houston, and the CICA Annual Conference in Australia. 2017 was very busy and we wouldn't want it any other way!
Industry Leadership
Danny Bishop, Crosby's Corporate Director of Training, had the opportunity to speak at the 33rd Annual Ironworker Instructor Training Program in Ann Arbor, Michigan on Advanced Rigging. Learn More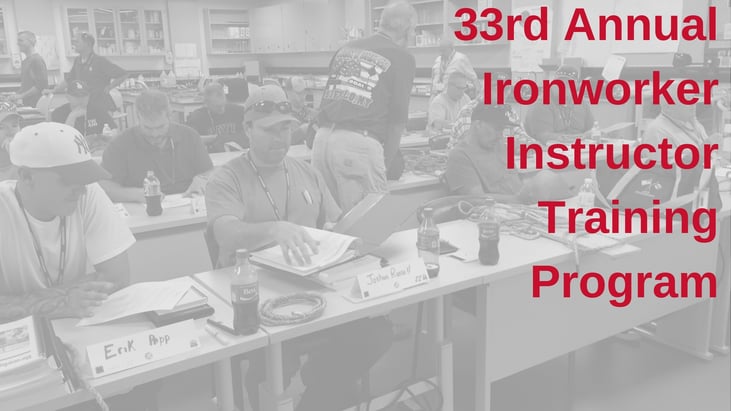 Crosby's Regional Vice President of Sales, Chris Whitehead spoke at the API Conference in Houston, TX on Shackle Technology Development.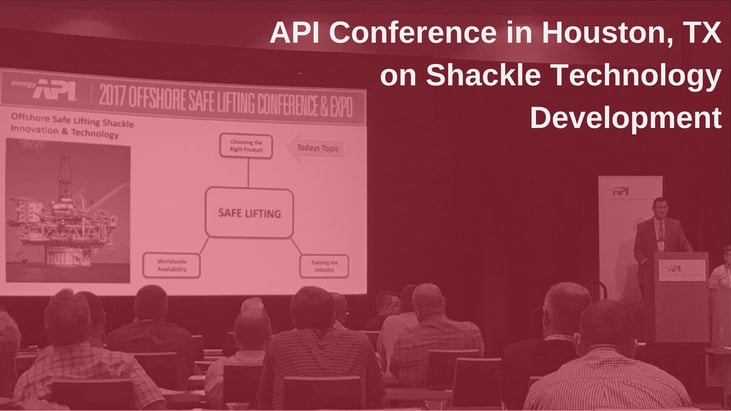 The New Crosby Rig Safe, Rig Smart On-Site Demonstration Truck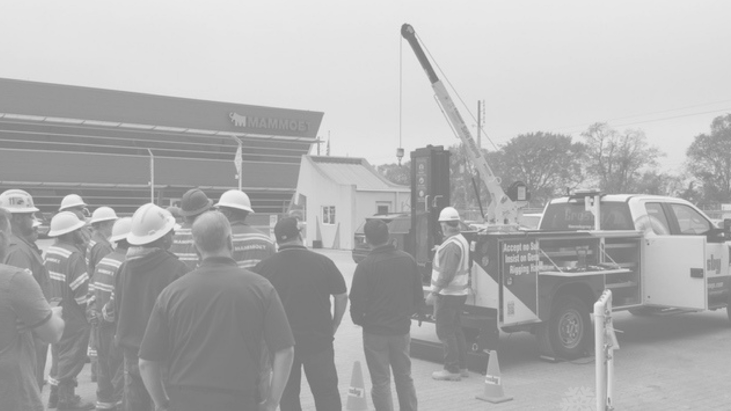 This year, Crosby was proud to launch its On-Site Demonstration Truck!
This custom designed truck took to the open road and offered Crosby product education and practical hands on rigging demonstrations for site supervisors, safety professionals, riggers, and crane operators. This was their opportunity to learn from the pros.
Everything is conducted by Crosby trainers who offer insight on key aspects on safe, effective, and efficient rigging. Stay up-to-date! The demo truck could be heading your way in 2018.
Marine and Industrial Demo Day - View Gallery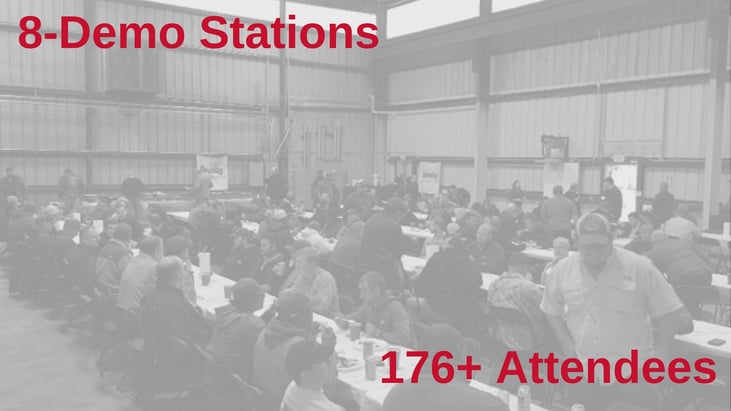 2017 Top Posts
As industry leaders, Crosby always wants to push relevant and helpful content for those in the industry. Check out our Top Posts for 2017. It was a great year for content!
Is a Certified Rigger a Qualified Rigger?
Our very own Danny Bishop, Director of Training, offered his own personal opinion along with wording from the standard to shed some light on this ongoing debate. Read Here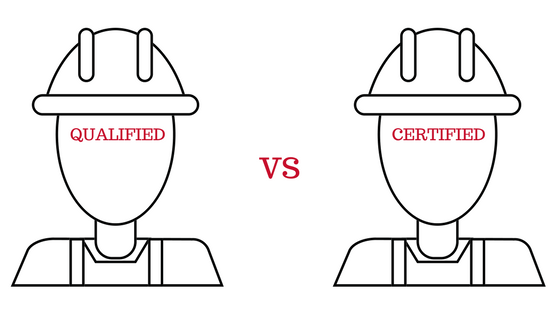 NYC Bridge Constructors Use Crosby Rigging Equipment
It was a new bridge with a long history. When the decision to construct a replacement for The Tappan Zee Bridge in New York was made, the high-quality rigging equipment that would be used by the crew on the project site also needed to be decided. The Tappan Zee Constructors called The Crosby Group and this was a project we were proud to be a part of. Read Here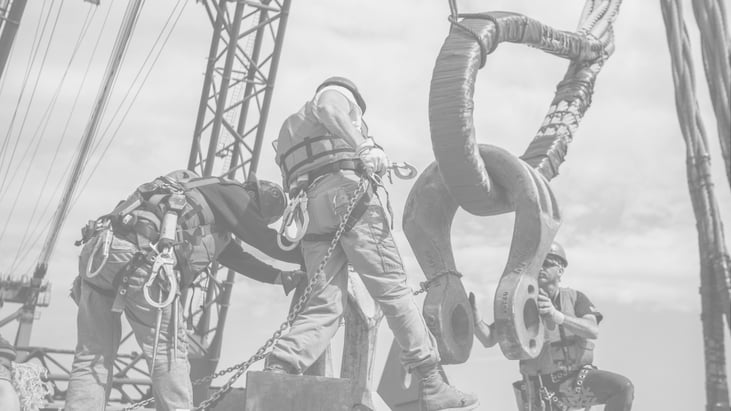 Shackle to Shackle
The question was one that had been asked by riggers across the globe. Can you connect shackle to shackle? And if you can, what is the proper way to do it? The Crosby Group addressed this very question and often misunderstood rigging application. Read Here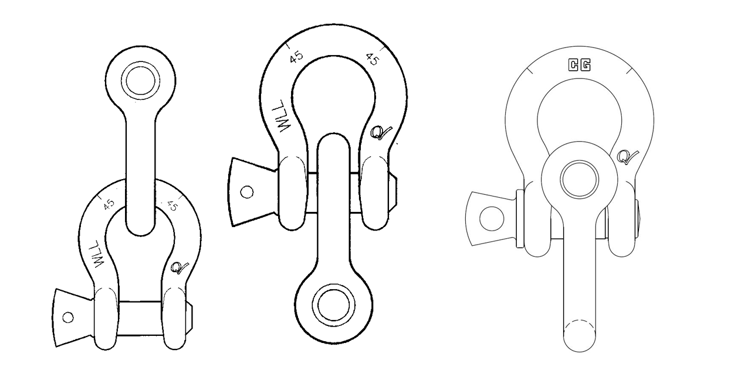 Titusville Keeps Firefighters Safe with Crosby Hooks
Every day firefighters are ready to put their life on the line to protect others from danger. But the only way they can keep others safe is by using equipment that they trust and Titusville Firefighters trust Crosby hooks to keep them safe both in training and on the field. We are proud to be the equipment of choice for these brave men and women. Read Here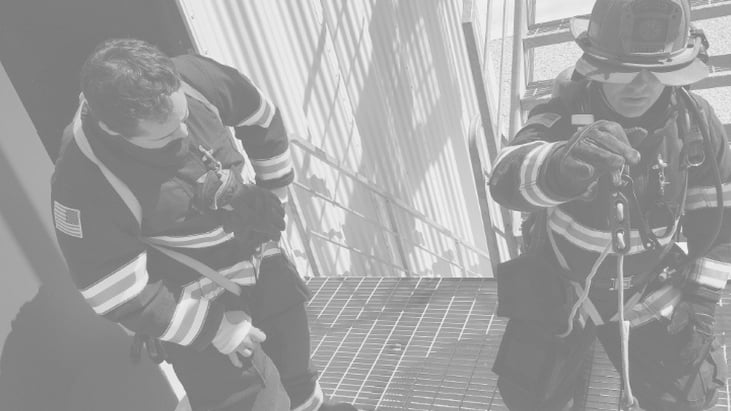 2017 Product Profiles
New Patent Pending Subsea Release & Retrieve Product Line - Learn More
101 & 201 eBook Series

Sling Hooks 101 Download
Sling Hooks 201 Download
Lifting & Anchor Points 101 Download
SHUR-LOC Hook Handle - Learn More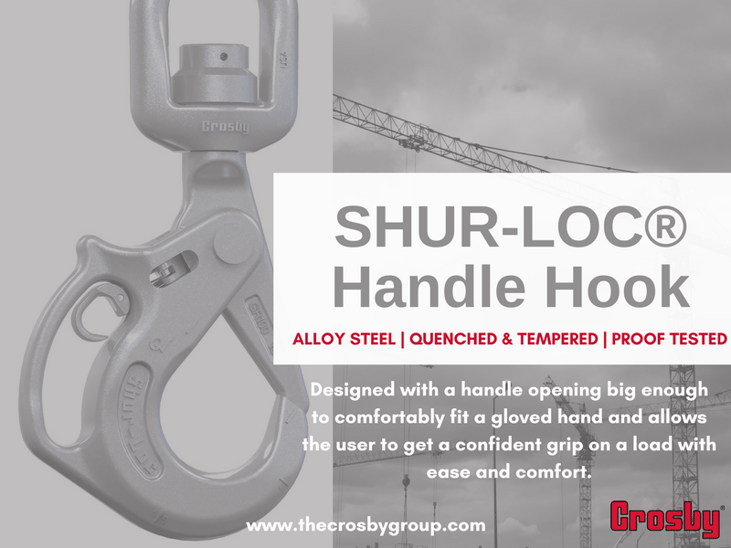 As we look back on 2017, we are proud of the milestones reached and the continual advancement of Crosby products and the expansion of the Crosby brand. We will continue to focus on quality and being a leading innovator in the industry, a role we take very seriously.
We look forward to everything 2018 holds as we continue our mission of lifting the world.