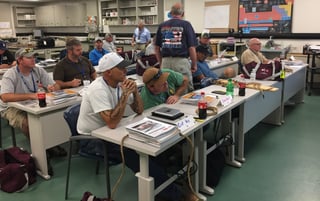 Danny Bishop, Corporate Director of Value Added Training has been with Crosby for thirty-six years. He recently spoke at the 33rd Annual Union Ironworkers Instructor Training Program in Ann Arbor, Michigan.
Danny spoke on the topic of Advanced Rigging. This course was developed to give individuals more advanced rigging education beyond the basics. He covered topics including weight and center of gravity of various loads and pros and cons of various multiple leg hitches. He, also, talked about how to calculate sling tension, loading on connection points, desired sling lengths depending on horizontal sling angle desired and block loading. During this training, Danny was able to showcase many newly developed videos and workshop activities to enhance the learning experience.
We are thrilled to have someone as knowledgeable as Danny on our team to share at these kinds of conferences. Check out the other conferences and tradeshows we'll be attending this year.