The Crosby Group, LLC, the global leader in lifting, rigging, and material handling hardware has presented a check for $25,000 to the Children of Fallen Patriots Foundation at the company's warehouse in Arlington, Texas. The donation was raised via sales of its popular wire rope clips.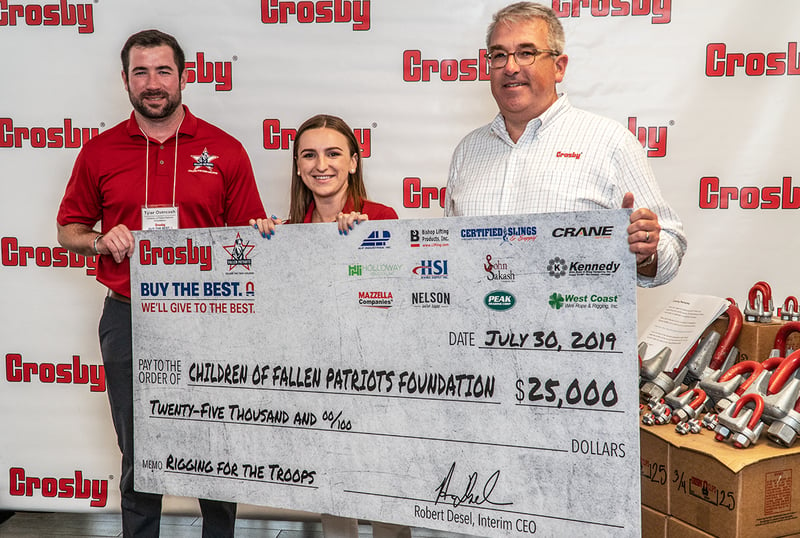 The Foundation serves to provide college scholarships and educational counseling to military children who have lost a parent in the line of duty. After government programs the average shortfall in college funding for a child of a Veteran who was killed or wounded in service is $25,000. Supported by its loyal distributors, Crosby donated a portion of each clip sale to the honorable cause.
With a US manufacturing footprint that includes plants in Texas, Oklahoma, and Arkansas, Crosby's involvement with the country's military stretches back to the company's earliest days, supplying shackle, wire rope clips and other hardware for all branches of the military. Today, more than 50 Veterans work in the company's facilities. Crosby is an active supporter of charitable causes, demonstrated by partnerships with United Way and disaster relief campaigns.
Robert Desel, Crosby's chief commercial officer, said: "When we first learned about the Children of Fallen Patriots Foundation from retired General David Petraeus in 2018, and the important role they play in the lives of military families, we knew we wanted to back this cause."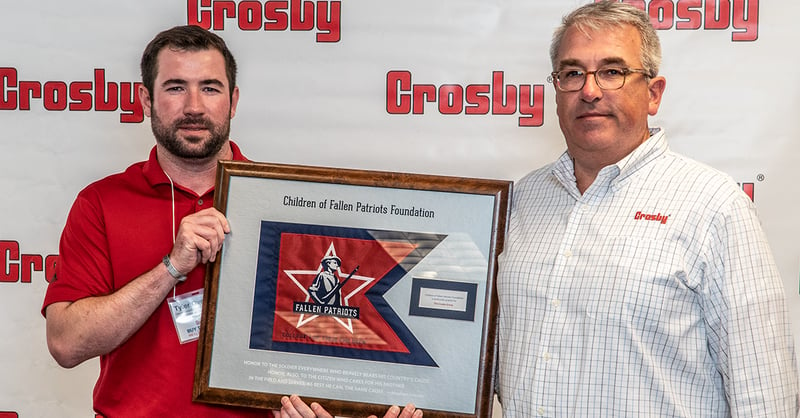 From April through June, 2019, Crosby donated a portion of every US wire rope clip sale. Supported by dealers, end users and other industry representatives, many of whom were in attendance as the check was presented, the profile of the campaign was raised further by a weekly photo competition where end users submitted an image of an application featuring a wire rope clip.
"The Crosby Rigging for the Troops campaign was a tremendous success," said Desel. "We sincerely appreciate our valued business partners and users of Crosby products for showing their support by choosing Crosby clips and helping build awareness of this important cause through social media."
Crosby paid tribute to campaign sponsors in three military-themed tiers—General: ALP Industries Inc.; Bishop Lifting Products Inc.; Certified Slings & Supply; Crane Hot Line (media sponsor); Holloway Houston Inc.; Hanes Supply Inc.; John Sakash Company Inc.; Kennedy Wire Rope & Sling Company; Mazzella Companies; Nelson Wire Rope; Peak Trading Corp.; West Coast Wire Rope & Rigging Inc. Major: Commercial Group Lifting Products; Fulcrum Lifting; Indusco; Industrial Wire Rope Supply Company Inc.; Tri-State Wire Rope. Captain: Brown Perkins Inc.; Gulf Coast Marine Supply; Rockford Rigging Inc.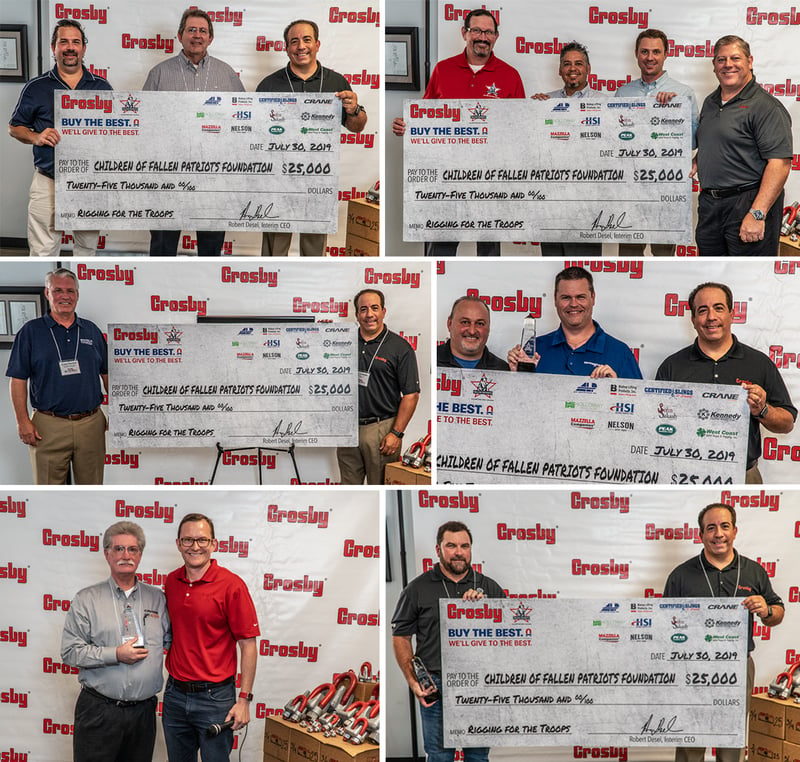 Approximately 20,000 children have lost an active duty parent in the military over the last 35 years. Of those, 97% of casualties are men, leaving behind single mothers to care for their families, and 60% report having trouble making ends meet. The foundation said that $500m is needed nationwide to cover the gap between government assistance and the actual cost of a degree.