Colin Basinger is this months Employee Highlight. Colin is the National Sales Manager for Crosby and operates from our offices in Brampton, Canada. He is a 7-year veteran with Crosby.

What do you enjoy most about your job?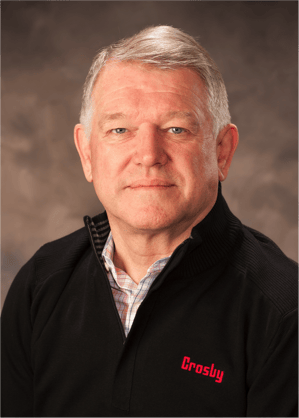 I enjoy the people I work with but also the people in our industry. I have been in this industry for over 32 years and have worked with many of our customers for years. Not only are they business associates but I am also fortunate to consider many of them friends. Every day brings a new challenge and new questions on the use of Crosby products. There is always something new to learn even after 32 years.
What are some of the activities you enjoy the most outside of work?
My wife and I enjoy cycling, just for recreation, although she did sign us up for a charity ride of 720 kms in 7 days a few years back. I also enjoy doing home improvement projects and helping family and friends with their projects as well.
What is something your co-workers might not know about you?
When I was younger I use to train and show quarter horses.
Share some words of wisdom with the world!
Always keep a positive attitude and try to see the best in people.
Be willing to take on new challenges and learn new skills, no matter what point in life you are at.
Enjoy what you do and be willing to share what you have learned with others.
What do you find the most challenging part of your job?
How quickly things can change while working with customers but also how long it can take for projects to develop.