Cargo Handling Specialists
At Crosby, we strive to be the industry specialist in every aspect of what we do. In the cargo handling world, we strive to provide uncompromising industry knowledge, training and products to all aspects of the cargo handling companies we work with. We believe good training is the foundation to successful rigging work. Below you will find three of the recommended courses specific to the Cargo Handling Industry.
DNV 2.7.1 Training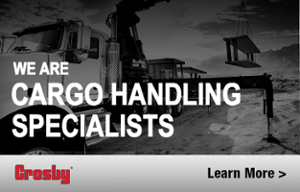 Crosby provides training on the design, selection, and marking requirements for" lifting sets" to comply with DNV 2.7.1 for offshore containers. An offshore container is a portable unit with a maximum gross mass not exceeding 25 000 kg, for repeated use in the transport of goods or equipment, handled in open seas, to, from or between fixed and/or floating installations and ships. The education provided assists the user on proper selection of rigging hardware in conjunction with wire rope slings to comply with this important standard.
Fundamental of Rigging Training
Crosby provides 4 hour and 8 hour fundamental of rigging courses "on site" to assist our product users when using Crosby products in conjunction with chain, wire rope and synthetic slings. Several different possible agendas are available to choose from depending on the user's needs. Course materials draw heavily from ASME, OSHA, and API standards depending on the course selected. Coupled with Crosby recommendations on proper use and inspection requirements.
Crosby also offers a two day Rigging Trainer Development in selected cities in North America. For more information please see our Rigger Training Development page.

NEW Load Securement Training
For the North American market, Crosby has developed a specialized course to assist in the education of proper application of load binders and chain in load securement applications, while adhering to FMCSA (Federal Motor Carrier Safety Administration) 49 CFR part 393 regulations and Crosby manufacturer recommendations.
We have many other options as well, so please feel free to contact us with your needs:


Crosby IPU10A Lifting Clamps
Crosby is excited to announce the worldwide availability of the CrosbyIP IPU10A "automatic closing" lifting clamp. The IPU10A clamp line has been very popular in the European market and is now available globally through Authorized Crosby Distributors. Features of the new IPU10A clamp allows the user to properly attach the clamp to the top edge of steel in hard to reach applications, eliminating the need for ladders or other potentially unsafe devices. When the material is engaged fully into the top of the jaw, the clamp will automatically close and lock allowing the material to be moved. When the material is landed, the clamp can be locked opened in the normal way allowing it to be removed and making it ready for the next lift.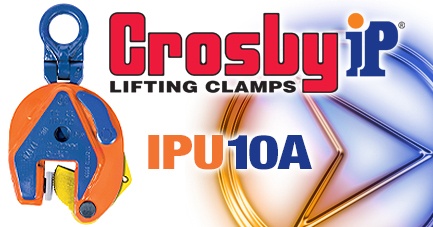 The new clamp also comes standard with the many features you expect from CrosbyIP vertical clamps. They include:
Clamps are smaller, lift more for the size and have fewer parts to wear out
180 degree operation
RFID equipped
Material hardness up to 37Rc
Universal eye
200% proof test with certifications
Instruction manuals
Available replacement parts
Click here to view the IPU10A catalog page.
These items are now in stock and ready for immediate shipment. Need someone to contact you? Fill out the form on the bottom of our Sales Rep Locator page and someone will contact you shortly.
Crosby Lebus Load Binders....Texas Made and Texas Tough!
An article to those users that desire "Made in USA" Load Binders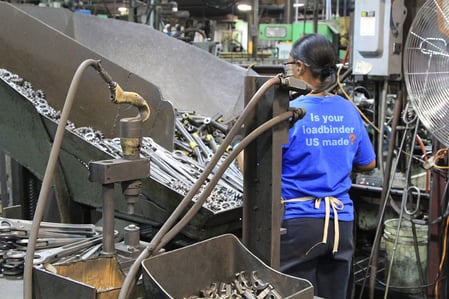 Why is that important? A load binder is a load binder. Right?
Well, not really. They all do basically the same thing regardless if they are made in the USA or in some far away distant country. And if you were to place a competitor's foreign-made load binder next to our USA made Crosby Lebus load binder there would be virtually no difference visually or in basic operational quality, at least at first. But with normal wear and tear of the binders, over time the quality would become more apparent. The lower grade foreign-made load binder would have to be discarded with more frequency. The Texas made Crosby Lebus load binders would still be doing it's job long after you had been through several rounds of buying and replacing the off-shore made brand. That is the difference between price and value.
Our Lebus load binders have extra heavy duty construction at the leverage point to prevent spreading that occurs on cheaply made load binders when they are "shock loaded" on rough terrain. Plus lower grade manufacturing processes and less than "world class" workmanship can lead to a risk of damage to your load or worse, risk of injury.
When looking to buy load binders if it's not Crosby Lebus ask if it is made in the USA. Some leading load binder suppliers want to make you think their products are made in the USA. Remember, "Assembled in the USA" is not the same as "Made in the USA." So, don't let a flashy brochure mislead you into believing it is USA made. Click here to view Crosby's load binder catalog page.
When it all comes down to one product, trust Crosby to get it right
Picture this. You're moments away from giving the green light on lifting a 50-ton container from a cargo ship to the deck on an offshore platform.
Picture the massive scale of the container and equally massive distance it is about to travel. Now focus your attention and think about one seemingly-minute detail: the master link at the top of the rigging triangle. This master link—a mere 18 pounds of alloy steel—might not look like much, but it is the critical component that will determine whether the lift is an ultimate success or failure. The tiniest crack on its surface or the slightest oversight in its rigging inspection can risk not only the value of the load, but the lives of every person on the platform deck and ship below.
Picture this scenario, but before you give the green light, look to your crew, look to your load, and take a moment to picture the name forged into that master link. If you see the name Crosby, you continue with confidence knowing that you have equipped yourself with the product and industry expertise required to keep the lives and loads entrusted to you out of harms way. Any other manufacturer's name might require you to hesitate, or worse, keep you grounded—why risk using another manufacturer's master link.
The success of any lift is not solely dependent on the quality of the product—it's the training, support, and inspection processes behind the product that guarantee successful lifts day in and day out. This is what sets Crosby apart from other manufacturers and this is why the lifting industry consistently turns to Crosby for master links.
Here's how we do it:
THE PRODUCT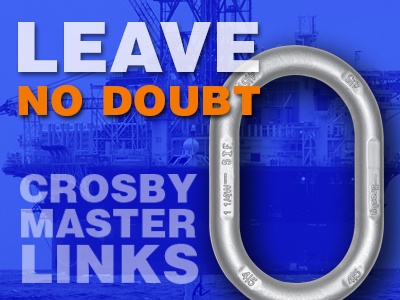 Crosby master links have been used countless times over the past century in the most demanding of applications. The quality of our product is the result of tireless efforts to ensure the most comprehensive, consistent manufacturing processes in the industry. Crosby utilizes the highest-quality alloy steels, which are optimized for strength, ductility, durability, and fatigue life by undergoing our perfected quench and tempering (QT) method of heat treatment. The reliability of our product is then enhanced by proof testing every individual master link. At Crosby, we understand how critical our master links are for safe, successful lifts, which is why we never rely on sampling techniques. However, don't just take our word for it—our Product Identification Code (PIC) system provides traceability throughout the complete manufacturing process. As a result, Crosby master links meet or exceed all requirements of ASME B30.26, including identification, ductility, design factor, proof load, and temperature requirements. Through our Certpro® On-line certificate program, documentation to provide the pedigree of our products is available to you 24/7.
Select master links approved for overhead lifting also employ Crosby's patented QUIC-CHECK® system, which assists in proper rigging practices and provides riggers a quick and easy means of identifying deformation—a sure sign the link has been overloaded and needs to be removed from service.
APPLICATION TRAINING
As important as the quality of the product is to everyday rigging, proper application is critical to the lives and loads associated with each lift. With this in mind, Crosby goes a step beyond all other manufacturers by providing unmatched product application training to all users. Each year, thousands of end users across the globe are trained on the proper selection and application of Crosby products—including master links. In-depth classroom training and hands-on instruction provide end users with the knowledge they need to not only lift with confidence, but also identify when a product is in need of replacement, which can have life-saving implications.
Click HERE to learn more about our training opportunities.
KNOWLEDGEABLE SUPPORT
High quality products and thorough training are only effective when the correct products are selected for specific lifting applications. To ensure our products are selected and utilized properly, every Crosby master link is backed by the most knowledgeable sales force in the industry. Our Crosby representatives are all qualified Crosby trainers and have spent countless hours each year imparting their knowledge on product users.
To provide additional local support during the product selection process and beyond, Crosby products are provided through—and supported by—authorized Crosby distributors throughout the world. In addition to stocking Crosby products, many of our distributors have received product application training, which is then passed along to our product users.
Click HERE to contact your local Crosby Representative.
PRODUCT INSPECTION
Remember the scenario you pictured earlier? This is a prime example of why proper inspection practices—both during manufacturing and product application—are absolutely critical to overcoming the risk factors associated with improper rigging and lifting. Our patented QUIC-CHECK® Inspection and Identification System utilizes RFID technology to record inspections electronically, which makes it easy to readily access this information and comply with regulatory standards.
In addition, many of Crosby's authorized distributors provide extensive product inspection services to end users. It is important to know that the individual inspecting your master links, slings, and other rigging products fully understands the safety standards involved in material handling, which is why our team is the only choice for your rigging and lifting needs.
Click HERE to learn more about Crosby's QUIC-CHECK® Inspection and Identification system.

Offshore Europe 2015
Booth 4E61
September 8-11, 2015
Aberdeen, UK
AECC (Aberdeen Exhibition & Conference Center)
ADIPEC 2015
Booth 12400, Hall 12
November 9-12, 2015
Abu Dhabi, UAE
Liftex 2015
Booth 50
November 11-12, 2015
Liverpool Exhibition Centre
NACB/PDC
November 16-19, 2015
Las Vegas, Nevada, USA