Crosby YouTube Channel
Chances are you might have seen the announcements about Crosby's new Easy-Loc V2 video or perhaps you've made your way over to the video resource page on our website to watch one of our training videos. What you might not know is that Crosby has all these videos—and many, many more—available to watch instantly in one location: the Crosby YouTube channel.
The Crosby YouTube channel is the best way to access the full collection of Crosby videos. The channel currently has 114 videos spanning a wide range of instructional topics, including product performance and inspection, product training, and rigging tips. You'll also find videos that get to the heart of our company's culture, such as our three-minute corporate video.
Many of the videos are offered in metric and several are also offered in Spanish, which makes the Crosby YouTube channel a valuable resource for audiences worldwide. All of our videos are ideal for use during trainings, presentations, or even directly on the job—YouTube sharing features make it easy to embed our videos directly into slide shows or share the video links via E-mail and social networking sites. Be sure to click "Subscribe" to receive E-mail notifications when new Crosby videos are posted.

As smart devices continue to become more versatile and readily available, people have come to rely on them not only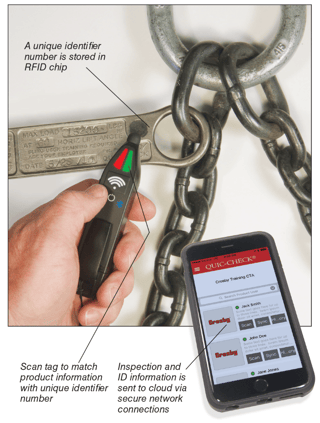 for entertainment but as a powerful daily resource as well. In fact, according to a survey published by the Pew Research Center in October 2015, nearly 90% of U.S. adults between ages 18-49 own a smartphone and 50% own a tablet computer1. These devices have become integrated into our adult lives as multi-purpose tools, filling many roles – agenda, calculator, phone, camera, computer, and more. The information has also become more accessible. Since data can be securely stored on cloud servers, we can pick up any of our devices and retrieve all of our information at any time.
As technology continues to effectively streamline all of our daily endeavors, it only makes sense these tools should simplify our lives at work as well. Fortunately for Crosby distributors and product users this concept has been masterfully integrated into the Crosby QUIC-CHECK® V4 Inspection and Identification System. Utilizing the smartphones and tablets that we already rely on, and incorporating the Crosby® secure cloud server, this exciting new system transforms what was once a tedious and time-consuming manual task into an efficient and accessible electronic method.
HOW IT WORKS
The Crosby QUIC-CHECK® V4 Inspection and Identification System pairs with your smartphone or tablet to provide a more accurate and efficient method of inspecting all RFID (Radio Frequency Identification) equipped slings and products. Upon scanning the item with the wireless QUIC-CHECK® V4 Bluetooth Scanner, your data is immediately uploaded to Crosby's secure cloud server, where it is available on any of your iOS™ or Android™ devices. The process is simple, efficient, and accurate!
Create the product or sling in the QUIC-CHECK® V4 Software Program, using your smartphone, tablet, or your computer's web browser.
Scan the product's RFID tag with the wireless QUIC-CHECK® V4 Bluetooth Scanner to associate it with the product created in Step 1.
Conduct the inspection of the item using your smartphone or tablet.
Create your inspection report using your computer's web browser.
THE BENEFITS
Reduces total inspection process time by up to 65%.
Reduces cost of overall inspection process.
Enhanced data accuracy:

Eliminates errors inherent in current process.
No more handwritten inspection reports.
No more manual typing of inspection reports.

Provides inspection reports quicker, with a higher level of accuracy.
Ability to keep electronic records of slings produced/inspected.

Use your mobile device's camera to record any discrepancies noted during the inspection.

Supports both iOS™ and Android™ devices; there is no expensive, proprietary handheld unit required.
Ability to quickly reference support materials designed to facilitate the inspection process.
Maintains an electronic file for each sling and various Crosby® hardware supplied to an end user – from sling inception through the last day it is in service.
RFID-EQUIPPED CROSBY® PRODUCTS
Many standard Crosby® products come "factory equipped" with RFID chips that can be programmed and utilized in your inspection efforts.

Additionally, Crosby® RFID tags make it possible to equip any product for use with the QUIC-CHECK® V4 Inspection and Identification System. Choose from 5 styles.

Sources:
1. Anderson, Monica. "Technology Device Ownership: 2015." Pew Research Center: Internet, Science & Tech. Pew Research Center, 29 Oct. 2015. Web. 7 July 2016.

Booth: Hall 12, Booth 12040
November 7-10, 2016
Abu Dhabi (UAE)
Booth: 30
November 23-24, 2016
Aberdeen, UK
Booths: C20647 & G3881
March 7-11, 2017
Las Vegas, Nevada USA