Cell Tower Solutions
At Crosby, we pride ourselves on being the innovators in the cell tower industry with the service to back it up. Because we focus on only using the best products and we're known for our world-class training, we provide the cell tower companies with the best products out there.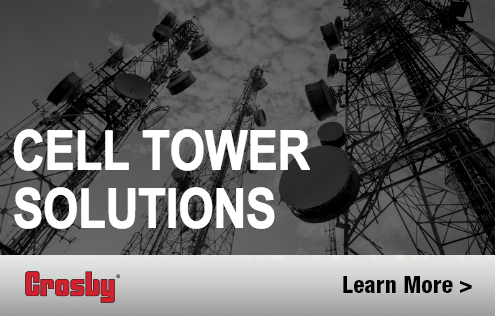 Please use the navigational links below to browse our selection of products for the cell tower industry. If you see something that interests you, simply click to learn more about it in the product catalog.
Click here to go to Crosby's cell tower website.
Crosby Reaccredited as an Accredited Provider of IACET CEUs
Prestigious Accreditation Demonstrates Commitment to High-Quality Lifelong Learning
(10/1/2015) –The International Association for Continuing Education and Training (IACET) has awarded reaccreditation status to Crosby. IACET Accredited Providers are the only organizations approved to offer IACET Continuing Education Units (CEUs). The accreditation period extends for five years, and includes all programs offered or created during that time.
"Crosby is proud of our education programs which trains thousands of rigging product users each year in rigging fundamental skills so that our customers stay on the cutting edge," stated Danny Bishop, Corporate Director of Training and added, "Our renewed partnership with IACET is a demonstration of our commitment to lifelong learning and high standards for all of our programs, and we are very pleased to join such a prestigious organization as well as an elite group of organizations that offer excellent continuing education and training programs."
"We are pleased to continue our relationship with Crosby as an Accredited Provider," stated Sandra L. Williams, PhD, president of IACET and assistant professor and consultant at Northeastern Illinois University in Chicago, IL. Williams added, "Crosby joins nearly 500 organizations around the globe that have had their programs vetted by third-party experts in continuing education to ensure the highest possible standards are met."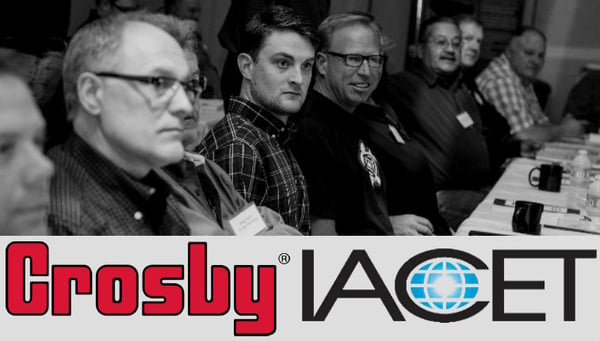 In order to achieve Accredited Provider status, Crosby completed a rigorous application process, including a review by an IACET site visitor, and successfully demonstrated adherence to the ANSI/IACET 1-2013 Standard addressing the design, development, administration, and evaluation of its programs. Crosby has pledged its continued compliance with the Standard, and is now approved to use the IACET name and Accredited Provider logo on promotional course material. In addition, Crosby is now linked to the IACET web site and is recognized as offering the highest quality continuing education and training programs.
About Crosby: Crosby markets a line of premium accessories used in material handling applications. Based in the US, the company has the reputation around the world for providing a broad range of products suitable for the most demanding of operating conditions with uncompromising quality. Products include wire rope clips, hooks, shackles, lifting clamps, hoist rings, overhaul balls, snatch blocks, crane blocks and sheaves.
About IACET: The International Association for Continuing Education and Training (IACET) is a non-profit association dedicated to quality continuing education and training programs. IACET is the only standard-setting organization approved by the American National Standards Institute (ANSI) for continuing education and training. The ANSI/IACET Standard is the core of thousands of educational programs worldwide. For more information, please visit www.iacet.org or call 703-506-3275.


Crosby Master Links-Essential Performance Properties
Strength is important, but it is just one of the four essential performance characteristics that must be taken into consideration during product selection. Master links must have the strength to lift their rated capacity. However, material strength is determined by hardness, and higher hardness generally reduces ductility. In harsh rigging environments, material strength must be managed with three other characteristics to create a durable, dependable product. Hardness (strength) must be balanced against ductility which allows for deformation before failure, toughness which provides resistance to crack initiation and growth and fatigue which allows for repeated application of a load. Achieving the perfect balance of all four characteristics is where Crosby's expertise excels.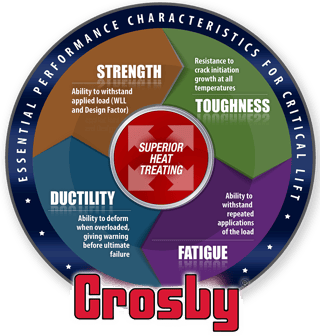 Recent incidents in the Gulf of Mexico involving master links reinforce the need to consider overall performance. The events forced a leading oil company to conduct an extensive review of lifting products used within their operations. The investigation concluded the incidents were caused by a combination of two contributing factors. One, the metallurgical properties of the master links and two, the environment to which the links were exposed.
As a result of the findings, the company modified their specifications to approve only those manufacturers who supply master links that meet new, more stringent requirements.
CROSBY WAS APPROVED
Crosby's standard master links meet the new specifications.
Why? The metallurgical properties of Crosby master links have always defined the industry standard, and our commitment to ensure The "Essential Performance Characteristics" are met in every master link we produce.
Throughout our 100 plus year history, Crosby has strived to maintain the necessary balance of performance properties for lifting products. This hasn't happened by chance, but rather through disciplined and rigorous engineering design, which includes raw material selection (highest quality available), heat treating (utilizing our perfected Quench and Tempering process) and stringent quality control.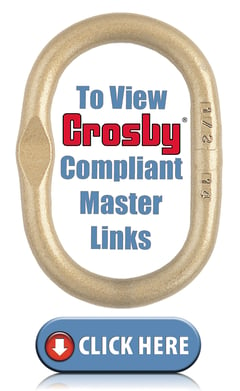 Bottom line: Crosby will not sacrifice one performance property at the expense of the other three. Strength, Toughness, Ductility and Fatigue must all work together to provide a safe and reliable lifting environment. The result – the peace of mind you and your team deserve when making a critical lift.
How do Crosby's "off the shelf" master links benefit you?
Bottom line, Crosby's "off the shelf" master links meet the new stringent specifications without the need for additional time-consuming and expensive testing.

Booth 12400, Hall 12
November 9-12, 2015
Abu Dhabi, UAE
Liftex 2015
Booth 50
November 11-12, 2015
Liverpool Exhibition Centre
NACB/PDC
November 16-19, 2015
Las Vegas, Nevada, USA