Crosby Pocket Size Block Rigging Card
For use in Crosby's Block Clinic rigging seminars and for end users to use in the field, Crosby has for many years made available a laminated pocket size rigging card called "Block Selection and Application Guide." The Crosby pocket size rigging card gives the user in the field quick and easy access to much of the same information found in the Crosby training Block Clinic workbook, including information on determining true mechanical advantage, block loading, D/d ratio and needed overhaul weight. Some of the other key features of our standard pocket size rigging card include:
Definition of mechanical advantage
Reeving basics
Snatch Block loading
Basic rigging plan using angle factor multipliers
User responsibilities
Proper methods to install a wedge socket
Sheave Bearing basics
General block and sheave inspection information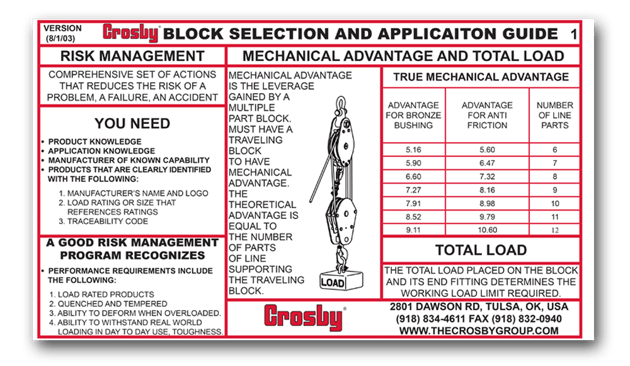 It includes 18 fold out panels of information and is available in both imperial and metric units. (Only available in English at this time)
Thanks for letting Crosby be a part of your training endeavors. RIG SAFE!




Six reasons why choosing Crosby QUIC-TAG™ is the best decision you'll make all day
We have all been there. Equipment operators in the rigging, lifting and material handling industries have different procedures and requirements when it comes to day-to-day operations, but there's a common bond when it comes to one important task: inspections.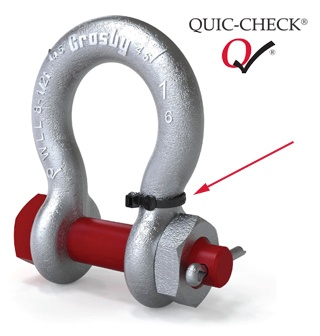 Whether you are using subsea shackles in an offshore lifting environment or master links in construction rigging operations, industry standards require periodic inspections to ensure all equipment is performing optimally. The inspection process is one that can be incredibly time-consuming and complex, which is why Crosby has introduced the latest innovation to its RFID family: Crosby QUIC-TAG™.
We know your time, money and equipment are all valuable, so we are here to give you the rundown on why choosing QUIC-TAG™ can change your entire approach to product inspections…and it just might be the best decision you will make all day.
1) It's versatile. Wish there was a way to equip your products with RFID technology without having to replace them? QUIC-TAG™ makes it possible. Its unique design includes an RFID chip and can be retrofitted on numerous products. It's a versatile solution that makes the inspection process more efficient across your product line.
2) It's easy to use. If you can use a zip tie fastener, you can use QUIC-TAG™—it's that simple. One quick attachment and your RFID tag is secure and ready to use. No drilling or complex instructions involved.
3) It's reliable. As with all products in the Crosby line, QUIC-TAG™ is engineered for extreme durability and strength. Because it features a low profile design, QUIC-TAG™ can be attached to your products without worry of interference with product usage or lifting operations. Think of it as "behind the scenes" reliability.
4) It can take the heat. QUIC-TAG™ is designed to resist harsh environmental conditions common to rigging, lifting and material handling operations. These conditions include exposure to UV rays, water chemical exposure and temperatures up to 185° F (85° C).
5) It's compatible. Rest assured, QUIC-TAG™ is fully compatible with the Crosby QUIC-CHECK® Inspection and Identification System. If you're already familiar with the competitive advantages QUIC-CHECK® brings to the inspection process, you know what a big deal this is.
6) It will save you money. What better way to wrap up a list of advantages than by sharing the perks of cost savings? Crosby has a variety of RFID tags designed for different applications; however, QUIC-TAG™ is the most cost effective option offered by Crosby. When you review the preceding list of items, it's clear that the features, benefits and cost combine to make QUIC-TAG™ an invaluable asset for your equipment inspection needs.

The BIG reason why you need Vitalife® Bio-Lube in your wire rope inventory
There are countless reasons why Vitalife® Bio-Lube is the preferred wire rope lubricant for the maintenance of wire ropes in the field. From its clear coating to its biodegradable formula, Vitalife® Bio-Lube provides the protection and coverage needed to ensure wire ropes perform optimally in a variety of lifting applications. However, the most important reason why you need Vitalife® Bio-Lube can be summarized in one basic concept:
Wire rope is a machine and should be maintained like any other machine—with application of lubricants.
If you're skeptical about wire rope being classified as a machine, the dictionary definition can help clarify this concept. A machine is defined as "an assemblage of parts that transmit forces, motion, and energy one to another in a predetermined manner."
Wire ropes consist of moving parts (strands) that continuously rub against each other during use, causing friction. As with other machines—simple and complex—friction causes wear and heat, which leads to oxidation and higher internal core temperatures. This ultimately results in accelerated rust and potential for premature wire rope (machine) failure. To avoid this detrimental scenario, machine manufacturers and wire rope manufacturers alike recommend maintenance programs, which include inspection and lubrication. This is where Vitalife® Bio-Lube becomes the key to success for wire ropes.
Vitalife® Bio-Lube wire rope lubricant extends the life of a wire rope by providing complete protective coverage to every strand, including the core. Application of Vitalife® Bio-Lube results in a clear, dry-to-the-touch coating that enables full visual inspection—a key product feature that ensures Vitalife® meets OSHA inspection requirements.
In addition, Vitalife® Bio-Lube meets the intent of the EPA's Vessel General Permit 2013, which requires the use of Environmentally Acceptable Lubricants in all "oil-to-sea" applications within U.S. waters. This biodegradable product offering is an invaluable resource for all wire rope lubrication needs, as it is ready to meet the requirements of future legislation regarding all lubricants and chemicals.
Additional benefits of Vitalife® Bio-Lube include the following:
Features advancements in biodegradable lubricant technology
Allows for work in environmentally sensitive areas
Not detrimental to worker health and safety
Low VOC content—reduced vapor levels, low toxicity
High polarity allows for penetration and coating of every strand
Strong film strength and lubricity for excellent lubrication between individual strands
Stable formulation for use in a large temperature range
Made in the USA
Follow the link below to learn more about how Vitalife® Bio-Lube can protect your wire ropes while protecting the environment.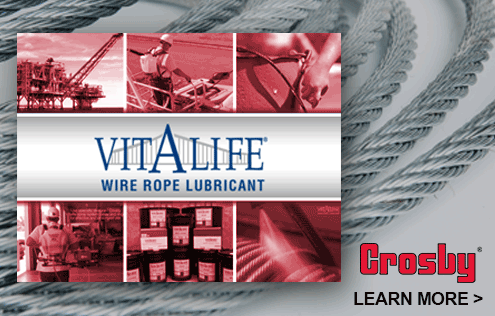 2015
Booth 12400, Hall 12
November 9-12, 2015
Abu Dhabi, UAE
Liftex 2015
Booth 50

November 11-12, 2015
Liverpool Exhibition Centre
NACB/PDC
November 16-19, 2015
Las Vegas, Nevada, USA
2016
IADC Health Safety, Environment and Training Conference
Booth: 8
February 2-3, 2016
Houston, Texas, USA
Booth: 134
February 25-26, 2016
Offenburg, Europe
Booth: B3.106
April 11-17, 2016
Munich, Germany