Crosby 2016 Catalog
We are delighted to announce the arrival of the new Crosby 2016 Catalog. In previous years our catalog has been available in a variety of formats, and this year is no exception. In true Crosby spirit, we have made it as convenient as possible for our customers to access all of the vital product and rigging information that they seek. Beginning May 1st, the 2016 edition may be viewed not only in the traditional print format, but also digitally - on the Crosby website. One of the greatest advantages to the online version of our catalog, aside from convenience, is that it will be routinely updated to ensure the most accurate and up-to-date information available.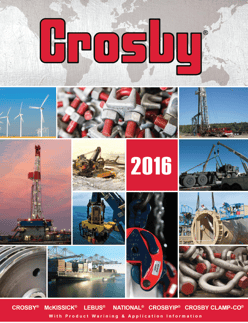 With each new Crosby product, we strive to present you with designs that are innovative, versatile, and efficient. Our catalogs are no different; with each new edition, our goal is to improve on the last great design to make it even better than before. Some of the exciting new products and features making an appearance in this year's catalog are:
Crosby Easy-Loc V2™Shackle Bolt Securement System (Pg. 83, 85-87) – This innovative new product revolutionizes shackle bolt securement by eliminating the need for tools or cotter pins, decreasing installation & removal time by as much as 90%. Up to 60% lighter than traditional nut and cotter pin designs, installation is as easy as 1, 2, 3!
HR1000MCT "Cold Tuff" Hoist Ring (Pg. 179) – Now available in metric sizes, this "Cold Tuff" hoist ring is perfect for dependable material handling in extreme conditions such as subsea and other saltwater environments.
Crosby IPU10A Automatic Vertical Clamp (Pg. 413) – Features of this new "automatic closing" model allows the user to properly attach the clamp to the top edge of steel in hard-to-reach applications, eliminating the need for ladders or other potentially unsafe devices.
If you would like a print copy, ordering your new Crosby 2016 Catalog is as easy as clicking the link below and completing the online form. As always, it's our pleasure to provide quality, innovation, and reliability to our customers in all aspects of the job, and we at Crosby thank you for your continued support.