Crosby Social Media
With the advent of modern technology has come a bright new avenue for business marketing: Social Media Networking. Today's society relies heavily upon a slew of highly intuitive "smart" devices to manage all of our daily activities, from the most vital communications to seemingly endless entertainment. For Crosby, this means that it's easier than ever for our team and customers alike to stay up to date on all of the informative and interactive materials we have t

o offer.
Today, Crosby is active on five of the most popular Social Networking Sites and Apps. Joining us on these platforms is now easier than ever, too. Please check out the newly published Crosby Social Media Platform Guide for complete instructions on how to follow our updates on all of our highly active accounts, including: Facebook®, Twitter®, LinkedIn®, Google+®, and YouTube®.
A link to this great resource has been included below.
Click Here for the Crosby Social Media Platform Guide

New Crosby Sheave Gauge
When working with wire rope blocks and sheaves, gradual wear in the sheave groove may not be obvious at a glance. So what's the best way to promptly ensure that we're maintaining an utmost level of efficiency, safety, and quality when rigging? The answer lies in what may seem to be a very unassuming tool – the Sheave Gauge. Don't be misled by the simplicity of its design though; when it comes to quickly identifying wear on sheaves, there's no better resource available.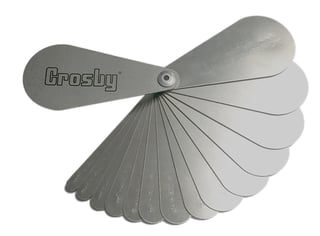 The new Crosby Metal Sheave Gauge boasts a complete 14 gauge set, ranging in size from ¼" to 1 ½". The durable metal construction is designed to withstand repeated, long-term use, while maintaining a sleek profile and light weight. Users may easily slip the gauge into a pocket or tool belt for maximum convenience and accessibility on the job.
Using the Crosby Metal Sheave Gauge is a very easy process. To check groove contour and wear; First, select the appropriate gauge from the set-for example, select the 1" gauge for a 1" wire rope sheave groove. Then place the gauge in the sheave groove and make sure there is a flush fit with no daylight between the bottom of the gauge and the sheave groove. The gauge should also contact the sheave groove for a 135 degree to 150 degree of arc. If the gauge sits in the sheave groove without a noticeable gap, as in Figure 1 below, and contacts sufficient degree of arc, then the sheave groove wear and contour are acceptable. If daylight is visible as shown in figure 2 below, then it is time to retire the sheave from use. Users should keep in mind that checking the sheave contour and groove is only one area of inspection and users should review Crosby sheave inspection literature for full inspection information.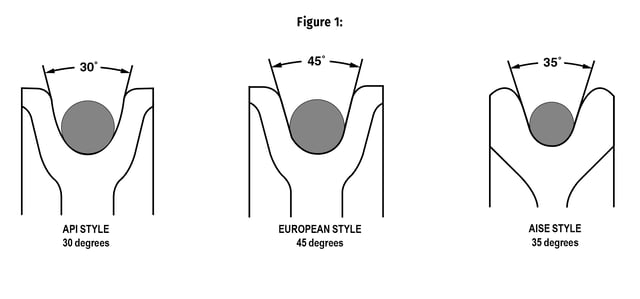 Sheave gauges can be ordered through your local Authorized Crosby Distributor.