Check out CrosbyGear.com
Crosby is pleased to announce the launch of our new online store! Visit www.CrosbyGear.com for 24/7 access to Crosby's exclusive line of branded men's and women's apparel and gear.
Are you in need of a great gift that will represent the excellence and pride of Crosby? The next time you want to say "thank you", "I appreciate your business", or even "happy Father's Day", do it with panache with a special gift from CrosbyGear.com. Sure, you could just give them a pen, book, or coffee mug – and sure they probably wouldn't make a fuss. But this year, why not go to CrosbyGear.com for something truly unique?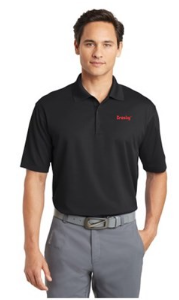 CrosbyGear.com is the only place to access all authorized Crosby promotional items. This makes it the ultimate resource for those who wish to provide unique promotional items for our valued Crosby end users and distributors. It is also now the only source for purchasing brand-approved items with the Crosby logo, including:
Nike Gold Dri-Fit Golf Shirts (Men & Women)
Custom Crosby Caps (Black and Camo)
Rolling Laptop Bags
Fleece Vests (Men & Women)
Padfolio Tablet Carriers
Titleist NXT Tour Golf Balls
Stainless Steel Coffee Mugs
For help selecting the perfect gift for the Crosby enthusiast in your life, we've put together the following list of suggestions that are being featured now at CrosbyGear.com:
Travel in Style with The Voyager Duffle Bag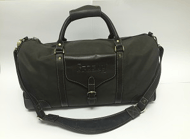 Made of full grain leather and suede-like brushed twill, the Voyager Duffle Bag's creamy saddle stitch trim gives this luxe, lightweight case a sharp appearance. This classic travel bag features full lining, a front flap pocket embossed with the authentic Crosby logo, and a zip pocket inside. It also boasts a soft-grip handle, plush padded detachable shoulder strap, and four metal feet on the bottom to protect against wear.
Never Thirst for Juice Again with The JuiceBox External Battery Pack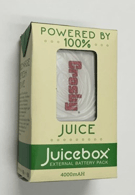 The JuiceBox is a 4000m/ah lithium ion power bank that works with all mobile devices. It has ample capacity to give your mobile devices one and a half full charges and its sleek size allows an easy fit in your pocket, purse, or backpack. True to its name, the unique packaging is literally a juice box, bringing a little humor and novelty to this incredibly practical gift. It comes with the 'Squid' multi-device charging cord that allows you to connect Apple products and ANY micro-usb device to your juicebox, or any other device that uses a USB port. Embossed with the authentic Crosby logo.
Shine Light on Any Situation with The Mini Maglite AA and Solitaire Combo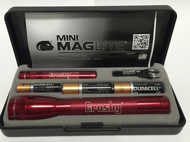 When it comes to practical gifts, it's hard to beat this Maglite Flashlight Combo Set - complete with authentic Crosby logo adorning both flashlights' easy-grip handles. This USA-made promotional item comes packaged in a gift box and includes 2 AA & 1 AAA premium alkaline batteries, and keylead.
Show Your Crosby Pride with a Men's or Women's Pinpoint Oxford Shirt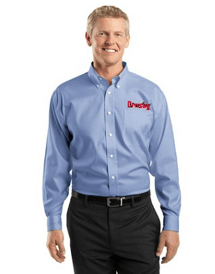 This shirt blends the impeccable appearance of 100% non-iron cotton with the polish of pinpoint oxford. Two-ply 80-doubles yarn for strength, and single-needle tailoring, button-down collar, and patch pocket add impeccable detail. The authentic Crosby logo is carefully embroidered on left chest. See Redhouse sizing chart for fitting measurements.
These items and more are available exclusively through CrosbyGear.com. New items will be continually added to the website throughout the year to expand our promotional offerings. As part of this effort, we highly encourage you to share your ideas for additional branded promotional items, so that we can continue to create a product offering that is best for you, our loyal Crosby customers. To view and purchase items available on the Crosby Gear website, please visit www.CrosbyGear.com.

Crosby was honored to be recognized at the 2016 Offshore Technology Conference in May, during ASME's Woelfel Best Mechanical Engineering Innovation Achievement Competition. This year, the innovative Crosby Easy-Loc V2™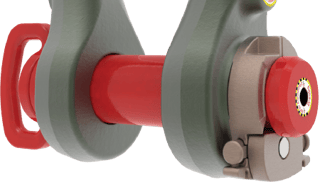 received the prestigious Award of Merit, recognizing the new shackle bolt securement system as one of this year's best products to reflect innovation and practical use of mechanical engineering in solving problems, improving design, and maximizing performance. Contestants were judged on a variety of criteria, including Novelty, Impact on Industry, HSE, State of Development, and Presentation. As 1 of 5 finalists, chosen from hundreds of competitors, Crosby was in very good company and is very proud to have achieved such a high level of recognition at this year's conference. Our success in this endeavor is the epitome of what we strive for with each of our new designs – to make the job of the end-user easier, safer, and more intuitive through innovative, reliable, and quality products.
If the Crosby Easy-Loc V2™ is new to you, here's a rundown of how this innovative new system takes the traditional "bolt and cotter pin" style of shackle bolt securement for critical lifts and completely simplifies and improves the process:
Saves time and money
The Crosby Easy-Loc V2™ reduces bolt install and release times by up to 90 percent. You read it correctly—90 percent. This is due to the fact that cotter pins, nuts, and additional tools are not required. The combination of reduced equipment and more efficient installation saves valuable time on the job, as well as project budget spending. In fact, the Crosby Easy-Loc V2™ is so efficient, it can even pay for itself over time.
Easy to use
As mentioned above, the Crosby Easy-Loc V2™ does not require any cotter pins, nuts, or additional tools, which makes installation and removal fast and easy. In addition, the Crosby Easy-Loc V2™ is up to 60 percent lighter than a traditional nut and cotter pin securement systems, which makes one-hand installation achievable in most cases. In other words, it's an ergonomic win.
Tough enough for any job site
The Crosby Easy-Loc V2™ boasts a durable 316 stainless steel construction, which helps reduce corrosion in harsh environments. Built tough in the U.S.A., the Crosby Easy-Loc V2™ has been tested and approved to meet or exceed all industry standards (including ASME B30.26).
Three steps to bolt securement success
When it comes to using the Crosby Easy-Loc V2™, it doesn't get easier than this: open the collar, push the collar onto the bolt, then close the collar. That's it—bolt securement done.

To further enhance the Crosby Easy-Loc V2™ bolt securement system, Crosby also recently released the new wide grip handle. Ergonomically designed with the end user in mind, the new wide opening grip handle makes the installation and removal of shackle bolts more efficient by providing hassle-free rigging and handling points. The new heavy lift handle encompasses the following benefits: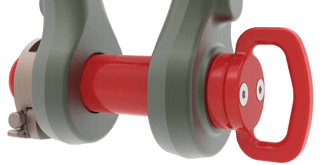 Ergonomic design: reduces potential lifting hazards such as pinch points and bolt coiling.
One size fits all: oversized handle enables easy access no matter the hand size.
Wide opening grip: provides easy access for bolt handling.
Made in the U.S.A.
Follow the link below to shake up your routine and learn more about how the Crosby Easy-Loc V2™bolt securement system can change the way you approach critical lifts.

Booth: 409
August 29-September 1, 2016
Stavanger, Norway
Permian Basin International Oil Show
Booth: 409
October 18-20, 2016
Odessa, Texas, USA
Booth: Hall 12, Booth 12040
November 7-10, 2016
Abu Dhabi (UAE)
Booth: 30
November 23-24, 2016
Aberdeen, UK