Crosby was honored to be recognized at the 2016 Offshore Technology Conference in May, during ASME's Woelfel Best Mechanical Engineering Innovation Achievement Competition. This year, the innovative Crosby Easy-Loc V2™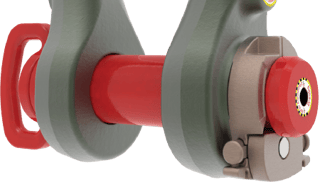 received the prestigious Award of Merit, recognizing the new shackle bolt securement system as one of this year's best products to reflect innovation and practical use of mechanical engineering in solving problems, improving design, and maximizing performance. Contestants were judged on a variety of criteria, including Novelty, Impact on Industry, HSE, State of Development, and Presentation. As 1 of 5 finalists, chosen from hundreds of competitors, Crosby was in very good company and is very proud to have achieved such a high level of recognition at this year's conference. Our success in this endeavor is the epitome of what we strive for with each of our new designs – to make the job of the end-user easier, safer, and more intuitive through innovative, reliable, and quality products.
If the Crosby Easy-Loc V2™ is new to you, here's a rundown of how this innovative new system takes the traditional "bolt and cotter pin" style of shackle bolt securement for critical lifts and completely simplifies and improves the process:
Saves time and money
The Crosby Easy-Loc V2™ reduces bolt install and release times by up to 90 percent. You read it correctly—90 percent. This is due to the fact that cotter pins, nuts, and additional tools are not required. The combination of reduced equipment and more efficient installation saves valuable time on the job, as well as project budget spending. In fact, the Crosby Easy-Loc V2™ is so efficient, it can even pay for itself over time.
Easy to use
As mentioned above, the Crosby Easy-Loc V2™ does not require any cotter pins, nuts, or additional tools, which makes installation and removal fast and easy. In addition, the Crosby Easy-Loc V2™ is up to 60 percent lighter than a traditional nut and cotter pin securement systems, which makes one-hand installation achievable in most cases. In other words, it's an ergonomic win.
Tough enough for any job site
The Crosby Easy-Loc V2™ boasts a durable 316 stainless steel construction, which helps reduce corrosion in harsh environments. Built tough in the U.S.A., the Crosby Easy-Loc V2™ has been tested and approved to meet or exceed all industry standards (including ASME B30.26).
Three steps to bolt securement success
When it comes to using the Crosby Easy-Loc V2™, it doesn't get easier than this: open the collar, push the collar onto the bolt, then close the collar. That's it—bolt securement done.

To further enhance the Crosby Easy-Loc V2™ bolt securement system, Crosby also recently released the new wide grip handle. Ergonomically designed with the end user in mind, the new wide opening grip handle makes the installation and removal of shackle bolts more efficient by providing hassle-free rigging and handling points. The new heavy lift handle encompasses the following benefits: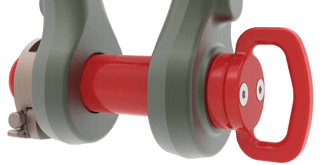 Ergonomic design: reduces potential lifting hazards such as pinch points and bolt coiling.
One size fits all: oversized handle enables easy access no matter the hand size.
Wide opening grip: provides easy access for bolt handling.
Made in the U.S.A.
Follow the link below to shake up your routine and learn more about how the Crosby Easy-Loc V2™bolt securement system can change the way you approach critical lifts.