2017 Crosby Training Schedule
Crosby considers it their responsibility to ensure that users are knowledgeable on the product's proper use. To accomplish that, Crosby provides an "industry first", comprehensive set of instructions to educate users on proper installation, use, inspection, and maintenance of its products. With some of the most experienced and recognized trainers in the industry, Crosby training is second to none. The comprehensive training covers all aspects of the lift, from before the lift considerations, to selecting the right product for the job. To that end, there is a Crosby seminar somewhere in the world every day.
2017 ASME-North America
2017 ASME Rigging Trainer Development Schedule
Course Objectives – ASME/OSHA Day 1
Course Objectives – ASME/OSHA Day 2

2017 Land-Based-North America
2017 Land-Based Energy Operations Rigging Trainer Development Schedule
Course Objectives – Land Based Day 1
Course Objectives – Land Based Day 2
For Europe and Middle East regions please contact Crosby Europe at training@crosbyeurope.com. For Crosby seminar information in Latin America and Asia please contact Crosby at training@thecrosbygroup.com.

Never Downgrade Because of Sling Angles Again! Introducing Crosby's SL-150 Slide-Loc™ - the Innovative New Alternative to Standard Eye Bolts
Imagine you are on the job, preparing your load for a lift using the traditional eye bolt method of rigging – however,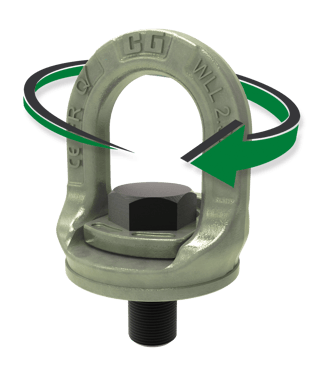 instead of an eye bolt you have a brand new kind of lifting point. You thread the lifting point into the load, using no tools whatsoever – in fact, your hand fits comfortably around the bail opening, allowing you to effortlessly install the lifting point. Then, you realize that the lifting point needs to be rotated about 40° counter clockwise in order to properly align with the sling. No problem! You simply disengage the patent pending locking mechanism on your lifting point and instantly rotate it to the required position - all without ever loosening or tightening the bolt, adding shims, or needing tools to get the job done! Your new lifting point maintains perfect alignment all on its own at the simple slide of the patent pending locking mechanism. Perhaps the most incredible part of this lift, however, is that even though the sling angle is at 90°, your lifting point maintains its full Working Load Limit. That's right, there's no need to calculate an adjusted working load to a downgraded lift point rating. Thanks to Crosby's latest innovation, the SL-150 Slide-Loc™ Lifting Point, this scenario is far from hypothetical. This ultra-easy, no-tools-required lifting point is today's rigging reality!
HOW IT WORKS
The innovative new design of the Crosby SL-150 Slide-Loc™ provides exciting features not found on standard eye bolts – features that are sure to make your next lift faster and easier than ever before! The increased efficiency is evident, as the Slide-Loc™ seamlessly transitions from secure installation and swivel positioning to a reliable lift without the use of any tools.
One of the most noticeable design elements of the SL-150 Slide-Loc™ is the patent pending integrated locking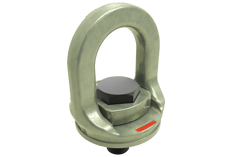 mecha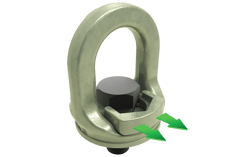 nism. Simply slide the mechanism into one of two positions: against the bolt to lock into the Installation/Removal Position, or away from the bolt to enable the Lifting Position. A red QUIC-Check® mark is visible when the Installation Position is engaged, indicating that the bolt is ready to be installed and not ready for lifting. Once properly installed, simply slide the locking mechanism to conceal the QUIC-Check® mark and the Crosby Slide-Loc™ is ready for lifting. The whole process is achieved by hand – no tools are required, making your job easier and faster than ever before.
Another important difference between the Crosby Slide-Loc™ and traditional eye bolts is the generous eye opening. This feature allows for easy rigging access and a firm grip when installing. The bail also swivels 360° to keep the load properly aligned with the sling leg. The best part of this feature? It maintains full Working Load Limit at any angle! Gone are the days of downgrading due to angular lifting, as is required when using traditional eye bolts. The Crosby SL-150 Slide-Loc™ is rated at 100% whether in line with the load or at a 45° or 90° angle.
ADDITIONAL INFORMATION
Forged Alloy Steel - Quenched and Tempered bail provides the following:

Greater durability providing the increased "Toughness" desired in potentially abusive field conditions.
Larger opening than standard eye bolts.
Easily readable "Raised Lettering" showing the name Crosby or "CG" and PIC Code for material traceability.

Capacities from 0.5 to 3.2 metric tons.
Available in both UNC & Metric Bolt sizes, from 3/8" to 1" & 10 mm to 24 mm.
Replaceable bolts available, including longer bolts.
The Working Load Limit is permanently forged into each bail.
Fatigue rated to 20,000 cycles at 1-1/2 times the Working Load Limit.
Proof Tested to 2.5 times Working Load Limit per EN1677.
4:1 Design Factor.
Manufactured by an ISO 9001 facility.
Meets the Machinery Directive 2006/42/EC guidelines and is marked with CE accordingly.