2016 Training Schedule
Crosby considers it their responsibility to ensure that users are knowledgeable on the product's proper use. To accomplish that, Crosby provides an "industry first", comprehensive set of instructions to educate users on proper installation, use, inspection, and maintenance of its products. With some of the most experienced and recognized trainers in the industry, Crosby training is second to none. The comprehensive training covers all aspects of the lift, from before the lift considerations, to selecting the right product for the job. To that end, there is a Crosby seminar somewhere in the world every day.
2016 ASME-North America
2016 ASME Rigging Trainer Development Schedule
Course Objectives – ASME/OSHA Day 1
Course Objectives – ASME/OSHA Day 2
2016 Offshore-North America
2016 OFFSHORE Rigger Trainer Development Schedule
Course Objectives – OFFSHORE Day 1
Course Objectives – OFFSHORE Day 2
2016 Land-Based-North America
2016 LAND-BASED Rigger Trainer Development Schedule
Course Objectives – Land Based Day 1
Course Objectives – Land Based Day 2
For Europe and Middle East regions please contact Crosby Europe at training@crosbyeurope.com. For Crosby seminar information in Latin America and Asia please contact Crosby at training@thecrosbygroup.com.




DO NOT BE FOOLED.......into thinking all sheave produce the same results
The Thialf, from Heerema Marine Contractors, is the largest crane ship in the world and Heerema's main deep-water construction vessel (DCV). The Thialf is a submersible Derrick B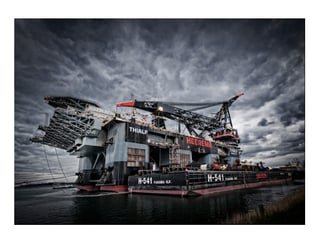 arge with two 7100 ton cranes. The ship is equipped with an III-class dynamic positioning system to stay in position in deep water. It has a tandem lift of 14.200 metric tons and a depth reach lowering capability, as well as a heavy lift capacity to install topsides, the upper half of the offshore oil platform that is above sea level on which equipment is installed.
During lifting projects the Thialf, consisting of an upper structure, deckbox and two pontoons with 4 columns each, normally is ballasted to 26,2 meters/85,9 feet, placing the pontoons (with a depth of 13,6 meters/44,6 feet) mostly under water in order to minimize the effect of heaving and seaway.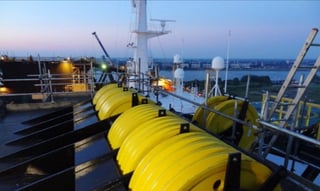 The ship is 201,6 meters/661,4 feet long and 88,4 meters/290 feet wide, with accommodation for up to 736 persons. The word Thialf comes from Thialfi, the servant of Thor, the German god of thunder.
The Thialf was initially equipped with Crosby® McKissick® sheaves in 1985. In 2014, Heerema Marine Contractors started to refurbish the Thialf crane sheaves. Due to the proven product quality, value-added services and unmatched training that Crosby offers, the Thialf again used Crosby McKissick sheaves to extend its lifetime for another 20 years. Heerema Marine Contractors was no fool and understood the superior critical features of Crosby McKissick sheaves as listed below.

Crosby McKissick® products began manufacturing sheaves and blocks for the oilfield industry in the 1920's and is now the largest supplier of aftermarket replacement sheaves for both land-based and offshore drilling companies. The McKissick® brand is recognized worldwide as a quality product that is designed specifically to withstand harsh applications.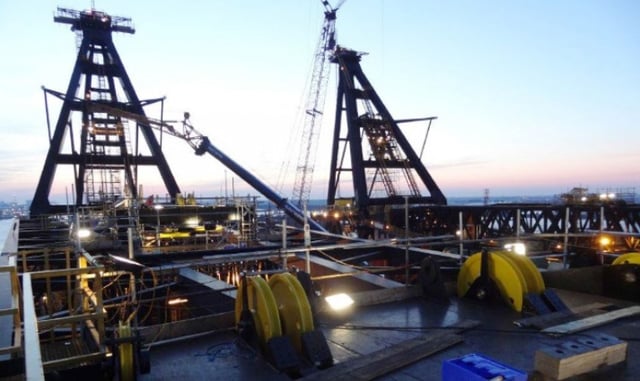 2016
IADC Health Safety, Environment and Training Conference
Booth: 8
February 2-3, 2016
Houston, Texas, USA
Booth: TBD
February 25-26, 2016
Offenburg, Europe
Booth: B3.106
April 11-17, 2016
Munich, Germany