The Darlington Nuclear Refurbishment Project is currently the 2nd largest infrastructure project in Canada for 2018. Aecon Industrial/Nuclear is a strategic partner in this $12 billion dollar project.
The owner of the project is OPG (Ontario Power Generation) which has a long history and specifications for using Crosby products on-site. Crosby products most used by Aecon and OPG include; shackles, eyebolts, hoist rings, sling hooks, snatch blocks, and master rings.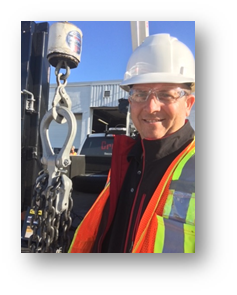 [Wade Stewart, Ontario District Sales Manager, showcasing Crosby's Eliminator and Shurloc Hook]
The contractor, Aecon, has an immense safety conscious focus. That is why Aecon partners with many of Crosby's strategic local distributors in Southern Ontario.
The Darlington Nuclear completion date is expected in 2025 and will replace fuel channels, feeder pipes, and generators for four reactors on-site. This refurbishment will extend the operation of the plant for another 30 years.
"Thanks for coming out Wade, the guys are all saying this was the best tool box talk we ever had."
Chad McDonald – H&S Advisor, Aecon Group
Aecon chooses Crosby, because we provide much more than superior rigging and material handling products. Crosby continues to offer the highest quality technical support and on-site safe rigging clinics at Aecon's utilities division in 2018.