It's one thing to read about how Crosby sets the standard for the highest-quality rigging and lifting products in the industry—it's another thing entirely to see it.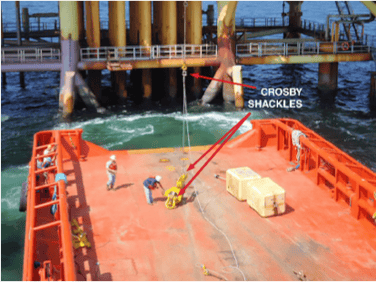 The following images provide a glimpse into the multiple applications of Crosby shackles across the subsea sector. Companies across the globe turn to Crosby when it comes to selecting products of superior strength that will withstand the long-term physical demands associated with subsea endeavors. Whether the task involves installing a pipeline 2,400 feet (732 metres) below the surface of the ocean or lifting equipment hundreds of feet into the air above an offshore platform, Crosby considers every lift to be critical, which is why Crosby products are some of the most dependable and recognizable in the subsea sector—as the following images illustrate.
Each image features the world-renowned Crosby Red Pin® shackle at work during three subsea projects in the Gulf of Mexico. All images have been provided courtesy of First Subsea—the world's leading supplier and developer of ball and taper Ballgrab® connectors for subsea applications.
Pompano Field J-Tube Riser Recovery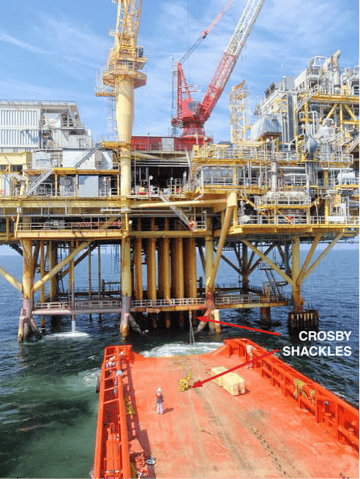 The Pompano field, operated by Stone Energy, is an oil and gas production hub in the Gulf of Mexico that is thriving with subsea expeditions and subsequent Crosby product use. These images show Crosby G-2140 alloy bolt-type shackles (4-inch 175-ton working load limit and 1 ½-inch 30-ton working load limit) being used in conjunction with a First Subsea Ballgrab® pipeline recovery tool to successfully recover a 12-inch (30-cm) API 5L X65 J-tube riser.
The Gulf of Mexico: 2,400 Feet (732 Metres) Down
With oil production in the Gulf of Mexico expected to rise significantly over the course of the next two years, the subsea sector will be a critical component of this growth. Successful subsea operations require reliable equipment that can tolerate sustained, repetitive exposure to underwater conditions at various depths. The following images illustrate the reliability of Crosby shackles 2,400 feet (732 metres) below the surface of the ocean in the Gulf of Mexico.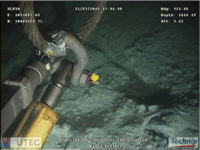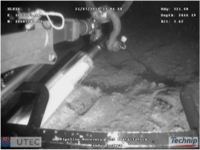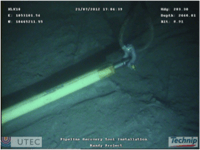 In this application, the shackle connects a wire to the lifting eye of a First Subsea Ballgrab® tool during a pipeline installation. Even far beneath the surface of the ocean, it's easy to notice the shackle's Red Pin®—the mark of Crosby quality.
Hess Tubular Bells Field Pipe Lay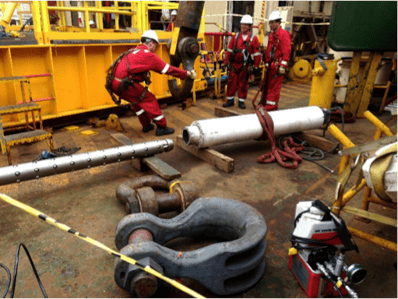 The Tubular Bells field, operated by Hess, is a deepwater oil and gas development in the Gulf of Mexico. In this image, a G-2160 "Wide Body" shackle (foreground) and a G-2140 alloy bolt-type shackle (background) are being utilized with a First Subsea Ballgrab® torque removal tool to achieve a pipe lay in the Tubular Bells field.