(Tulsa, OK) To meet the needs of larger and longer steel bridge designs, Crosby® CLAMP-CO has added a beam clamp with a 55 metric ton Working Load Limit (WLL). The new clamp features a jaw opening for flange widths of 36" to 55" (914mm to 1397mm) , and flange thickness up to 4" (102mm).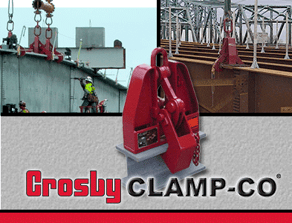 Utilizing this larger clamp, faster and easier erection of the larger beams currently used in bridge construction applications can be achieved. This clamp is available as special order and is made to the customer's specifications. Beam clamps with 5 metric ton to 35 metric ton Working Load Limits and jaw openings from 4" to 36" (102mm to 914mm) are a standard offering available today.
Crosby® can supply a custom beam clamp design form to assist in ordering and quoting beam clamp application requirements. Contact Crosby at (800) 777-1555.