Crosby Hires Bob Myers as the New Block and Sheave Product Specialist
The Tulsa, Oklahoma, based Crosby Group, a global leader in accessories for lifting and material handling applications, has announced the addition of Bob Myers as the Block and Sheave Product Specialist for The Crosby Group. In his new role, Bob is responsible for sales and marketing support for Crosby's distribution partners, OEMs and end users who have chosen or are considering Crosby blocks and sheaves for their lifting solutions.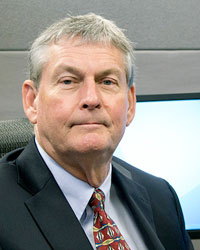 Bob will be working closely with multiple resources within Crosby to identify new product innovations, develop new tools, promote Crosby's design and performance benefits, and assist the extended Crosby sales organization along the successful growth trajectory that the block and sheave product line has enjoyed to date.
Bob brings a tremendous amount of industry knowledge and experience that he earned over a prominent career in sales with Gunnebo Johnson that spanned 30+ years. Most recently, he lead the sales efforts of Paccar Winch until joining Crosby. Bob's long term relationships with distribution, OEM's and end users will serve him well in his new role.